(
Advanced
) Data Structures 2020
László Kozma
, Institut für Informatik, Freie Universität Berlin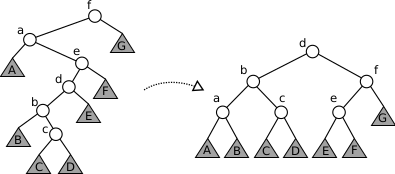 News
31. March 2020 -- Lectures to start 21th April, probably mostly online/remote. More information soon.
12. March 2020 -- NOTE: The COVID-19 situation will likely cause some delay/disruption, stay safe and informed.
5. March 2020 -- some information added to website (everything can still change)
Organisation
Two lectures, one exercise session per week, starting 21th April.
Lectures: Tuesday and Thursday 10-12.
Exercise sessions: Wednesday 14-16. Instructor: Katharina Klost.
Some organisational info on course KVV page.
Exercise sheets: one per week (except last 1-2), one mini-project replacing 2-3 exercise sheets in second half of course.
Topics
Heaps and amortised analysis
Soft heaps and selection
Number systems and de-amortisation
(planned --
very
tentative) - Trees and codes - Splay trees, entropy and static optimality - Online problems, competitiveness, paging problem - Tango trees, dynamic optimality - Geometry of binary search trees - Link/cut trees and dynamic graph problems - Succinct data structures - Pattern avoidance - Finger trees and Jordan sorting - Persistence - External memory - Dynamic order maintenance - Bitprobe schemes - ?? B-Trees, Strings, Hashing, Approximate counting/membership, Integer RAM, Geometric data structures, Lower bounds ???
Material
Lecture notes (TBA)
References (TBA)
Exercise sheets (TBA)
---
Contact:
laszlo.kozma@fu-berlin.de
---
Last updated by László Kozma.