Kurt Gödel: Philosophical Views
Workshop and Blockseminar, Dep. of Mathematics and Computer Science, FU Berlin
---
---
Workshop (Feb 27)
Organization: Prof. Dr. Christoph Benzmüller (FU Berlin & U Luxembourg)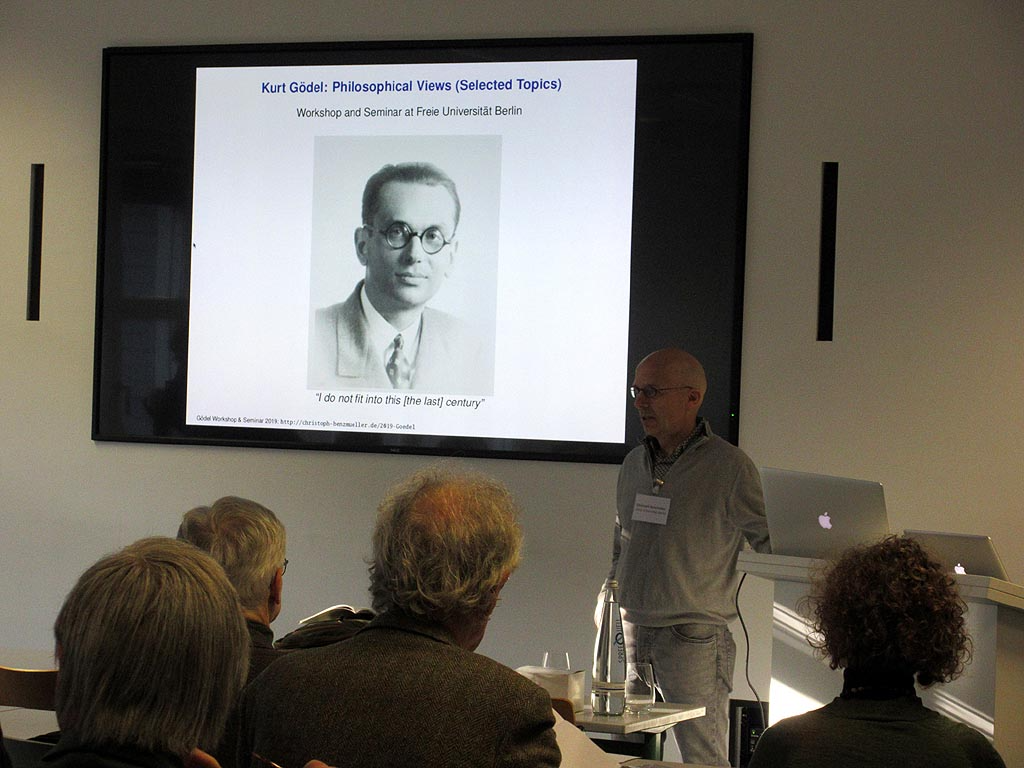 On Januar 14, 1978, Kurt Gödel, one of the greatest logicians of all times passed away. Today, nearly half a century later, we have still not exhaustively explored, discussed and conclusively assessed all of Gödel's visionary ideas. With this informal, one-day workshop we provide a forum for interested scientists from various disciplines to meet and discuss unexplored aspects in Gödel's work. A particular focus will be on his philosophical views.



Pictures of the event



Workshop Programm: Wednesday, February 27




The workshop received support from the Department of Mathematics and Computer Science of FU Berlin, the Institute of Informatics of FU Berlin, the Berlin Mathematics Research Center MATH+, and the Kurt Gödel Freundeskreis Berlin.



---
---
Blockseminar (Feb 26, Feb 28, Mar 1)
Organisers/Supervisors:
Prof. Dr. Christoph Benzmüller (FU Berlin)
Prof. Dr. Srećko Kovač (IPh Zagreb)
Dr. Oliver Passon (U Wuppertal)



Students from FU Berlin present and discuss selected works of Kurt Gödel.


---

Tuesday, February 26

  10:15-10:30: Welcome and Introduction
  10:30-11:15: (Sandra Takano) Life of Kurt Gödel – Part I (abstract) (slides) (paper)
  11:15-12:00: (Nadja Suleiman) Life of Kurt Gödel – Part II (abstract)
  12:00-13:30: Lunch
  13:30-14:15: (Valeria Zahoransky) Gödel's Incompleteness Theorem (abstract) (slides) (paper)
  14:15-15:00: (Hannah Troppens) Implications of Gödel's Incompleteness Theorems (abstract) (slides) (paper)

Wednesday, February 27

  Gödel-Workshop; see above

Thursday, February 28

  09:00-09:15: Welcome
  09:15-10:00: (Manuel Heurich) Gödel's Rationalism and Realism (abstract) (slides) (paper)
  10:00-10:45: (Jessica Lynn Concepcion) Gödel's 14 Philosophical Viewpoints – Part 1 (abstract) (slides) (paper)
  10:45-11:15: Break
  11:15-12:00: (Laura Witt) Gödel's 14 Philosophical Viewpoints – Part 2 (abstract) (slides) (paper)
  12:00-12:45: (Cedric Laier) Evolution of Gödel's Philosophical Viewpoints (abstract) (slides) (paper)
  12:45-14:00: Lunch
  14:00-14:45: (Irina Makarenko) Intuitionistic Logic versus Classical Logic – Gödel's Interpretation and Conjectures (abstract) (slides) (paper)
  14:45-15:30: (Leon Dirmeier) Further Works based on Gödel's "Eine Interpretation des Intuitionistischen Aussagenkalküls" (abstract) (slides) (paper)

Friday, March 1

  09:00-09:15: Welcome
  09:15-10:00: (Filip Tolovski) Special and General Relativity Theory (abstract) (slides) (paper)
  10:00-10:45: (Thomas Harms) Gödel's Notion of Idealistic Time (abstract) (slides) (paper)
  10:45-11:15: Break
  11:15-12:00: (Alexander Zachrau) Gödel's Ontological Argument – Contextualisation and Reception (abstract) (slides)
  12:00-12:45: Reflection and Final Discussion


---
C. Benzmüller (Last modified: Thu Aug 22 09:32:58 CEST 2019 )